17.11.2009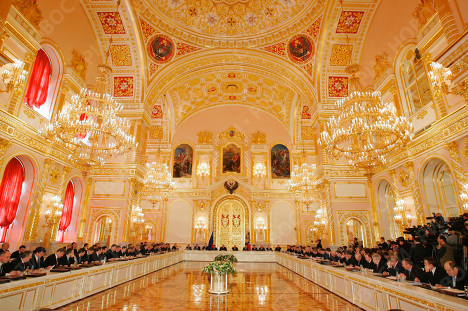 Dmitry Medvedev's annual Presidential Address to the Federal Assembly of Russia, presented on 12.11.2009 in the Grand Kremlin Palace in Moscow, was an important event in the country's political life. However, we cannot tell how the integrated program of Russia's socio-economic development, set forth in the Address, can really make a dramatic change in the critical situation in the country, until we see specific results of its implementation. That would require an austere control over the execution of the program, as per the presented list of projects, the implementation of which must be associated with strictly defined conditions and timeframes. It's not something that everyone would like. A number of people who attended this important event in Moscow, should be sitting "up the river" instead of the St. George Hall of Kremlin. And the fact that everybody applauded as one, as if supporting Dmitry Medvedev's speech, means nothing.
These "doers" with questionable past and present think themselves to be some an integral part of the "untouchable elite of celestials" embedded into the structure of state officials. They had "better reasons" to pursue power rather than developing the State and living off a single salary. Those "doers" organized meetings of human rights activists against death penalty in Russia. Officials and their accomplices, irresponsive before the Law, who participated in the destruction of the country's industry, agriculture and science, and, therefore in the undermining of Russian economic security, defense capability and statehood, hope that they will manage to avoid prosecution and vengeance for their anti-state activity during the period of anti-Russian "reforms" they conducted.
However, for the "safety net", these people prefer life imprisonment to death penalty, which gives them a chance to buy their freedom in Russian realities. Under certain benefits and in the political interests, total corruption in the country allows to secretly replace one prisoner with another, and (or) write him off as deceased. With Russia's lawlessness and arbitrariness such "miracles" are easy to carry out.
For example, for their undermining of Russian economy, defense capability and security, Anatoly Chubais and members of his "reformers team" should be subject to administrative, material and criminal proceedings, resulting in a sentence of capital punishment issued by a court. However, if those state criminals are not executed, they will likely be released clandestinely, with the direct involvement of "powerful forces" and influential individuals – on mutually beneficial terms.
After plastic surgery, complete replacement of the data and obtaining a citizenship of another State, former criminals can safely continue their luxurious life at the expense of funds, which they hid abroad a long time ago, including depersonalized accounts, and freely use the property and assets officially held by their trustees, dependants and nominees. But in case of death penalty, no amount of money can help them return from the "other world". That's why atheists of the "community of the state criminals" actively oppose the death penalty in Russia. All the degenerates who participated in the destruction of the economy and in the genocide of the people should suffer the most severe punishment, so that other "reformers" know better than to destroy the state. China is a good example of that.
Dmitry Medvedev's Address of 12.11.2009 speaks that the state-owned corporations are generally unpromising, … and that there is a need for an independent audit. An audit carried out 2008 found out that the salaries of the heads of state corporations range from 250 thousand to 1.9 million rubles a month. Officials from Russian Ministry of Economic Development and Ministry of Finance, heads of state corporations are 3-4 times greater than salaries of ministers.
According to data presented by General Prosecutor of Russia Yuri Chaika to Russian President Dmitry Medvedev on their personal meeting on 10.11.2009, out of 130 billion rubles transferred to state corporation "Nanotechnologies" in November 2007, only 10 billion were used as of 01.07.2009, of which 5 billion were spent on the support of the company's own activities. The General Prosecutor said that the transferred funds were earmarked for creation of promising nanotechnologies and development of nano-industry.
Chaika also stated that most of the funds allocated by the State were not used for the intended purpose, but instead placed in bank deposits as available cash flow. He also noted that since the establishment of the corporation, its supervisory board only approved a total of 36 projects in the field of nanotechnology out of than 1200 received; moreover, only eight of those are being funded, and none of those is significant.
Hence, the inspection conducted by the General Prosecutor's Office of Russia, together with the Presidential Control Directorate, "… found failure to execute functions and objectives, and inconsistence of the corporation's activity with the goals set forth in the federal law, under which they have been created. … Found facts of inappropriate and inefficient use of property and funds, transferred to the state corporations by the state. … Indentified violation of legislation during execution of functions prescribed by the federal law, under which they have been created".
This prompts us to ask reasoned questions. Are Chubais and his team members going to return the funds they illegally spent on their maintenance to the State, and compensate for the huge damage dealt to the State? Will Chubais be held criminally liable for damage and deliberate disruption of funding of promising scientific developments in the introduction of nanotechnology to practical areas, linked with the development of Russia's economy?
And that's not to mention the responsibility for the breakdown of the entire country's energy system, which used to be controlled by RAO "UES of Russia", which Anatoly Chubais came to head on 30.04.1998, and liquidated on 30.06.2008 – ostensibly, "reforming" the industry. Having shattered the single energy complex into unbalanced regional energy systems, Chubais and his team members have, in fact, laid a "time bomb", which led to systemic crashes on the objects of the former RAO "UES of Russia". The largest of these was the accident at the Sayano-Shushenskaya HPP, which occurred on 17.08.2009.
China, which develops swiftly and successfully, builds modern high-speed highways every year; their total length is several dozen time greater than the length of roads commissioned in Russia per annum. Moreover, an average construction cost of 1 kilometer of a road in China is 5-8 times cheaper than in Russia, and that's not to mention that the condition of Russian roads demands constant repair.
Every year, colossal federal funding is allocated to Russian Ministry of Transport for the construction of new and overhaul of old roads; this funding is not being spent for the intended purpose. Hence the dismal state of most roads throughout Russia. "Baikal" (M53) federal highway, horrible condition of which (see photo) was exposed to the world in October 2009 via mass media, is a good example. Therefore, the increase in the country's tax on motor vehicles will not give any tangible results in the construction and repair of roads.
Attempts to make Russian citizens buy domestic cars obsolete models with low-power engines, through taxes, will not have any tangible results. Those who have an opportunity to buy a car will still buy a modern foreign brand, even if it's assembled in Russia. Although the sales of foreign cars in Russia decreased in 2009, that was a direct consequence of the financial crisis in Russia, and not the desire of citizens of the country to purchase domestic cars, quality and after-sales service of which are far from what would have been desirable.
In his Address, Russian President Dmitry Medvedev also said that more than 4.5 thousand corruption cases have been investigated during first six months of 2009. Over 700 officers of law enforcement agencies and 532 officials from state and municipal power bodies were sentenced. The majority of suspects and convicts had a good example to follow – actions of their superiors. As usual, not everybody is caught red-handed – only those unlucky, as well as "scapegoats" of corrupt schemes.
Efficient struggle against corruption in Russia is nearly impossible without a swift 4 times reduction of the bureaucratic staff, which will undoubtedly lead to a drastic decrease in corruption. But maximum efficiency will only be reached if all officials from state power bodies, law enforcement, supervisory, controlling authorities, special services and courts had their salary significantly increased. They should also be rewarded on the basis of real results of their work, and provided with a decent benefits package.
First and foremost, fight against corruption must be started with bringing the "reformers", who squandered national wealth for their personal benefit in 1990-s, to criminal responsibility. We should remember that the total amount of damage dealt to the State and society by Anatoly Chubais and his team members, since 1992, is gargantuan. The scale of this damage is so huge that it overshadows the total amount of corruption in Russia today. It appears, however, that under the influence of some "powerful forces" in the country and abroad, Russia's leadership is very wary and avoids confrontation with the "unsinkable" Chubais, which ultimately prevents an official investigation of the anti-state activities of Chubais and his team.
It is therefore necessary to resort to the services of the Fatherland's Patriots, who, in the interests of Russia, are eager to bring political criminals and their accomplices to justice and inevitable punishment. Today the orgy around the Anatoly Chubais has reached the point of absurdity, and reminds us of the scenario that unfolds in "The Great Cockroach" – a popular poem by Korney Chukovsky.